Earthborn believes that paint has the ability to transform our spaces for the better. A beautiful dose of its uniquely formulated colour can improve anyone's surroundings and uplift their mood. And its paints are eco friendly and virtually VOC free, with no nasty paint smells or harmful emissions. But where to start?
If you're looking for a brand new colour scheme and don't know where to start, or even if you've chosen your wall colour but are stuck on what to put with it, help is at hand in a new simple guide. Earthborn has created a mood picker which will generate a choice of colour palettes that match your chosen mood. Try it. It might even give you some ideas and paint colour combinations that you love but would never have thought of.
And Earthborn's eco credentials extend beyond its paints – its Classic range colour card is now 100% recyclable, including the paint chips and adhesive too! As always, the colour card is painted in real Claypaint, and displays the brand's other finishes as well.
Go to earthbornpaints.co.uk/colour-picker/ and click on the "Colour Guide" link at the foot of the page.
Large living rooms
Large living rooms are a joy to decorate. Whether your style is modern or traditional, a good-sized living space allows you to be as creative as you like with colour. But with a big expanse of walls and ceiling, choosing paint colours for large living rooms can present its own challenges too.
So here are some of Earthborn's favourite colour schemes, to make choosing paint colours for large living rooms easy and enjoyable.
Mix modern and classic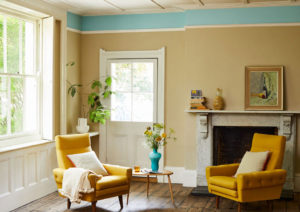 The beauty of a large living room (especially one with period features) is that you can afford to inject a dose of colour, even if your style is quite traditional. In this scheme we have used the classic, grown up shade Crocky Road, but made the space a little more special with colourful accents. In this case, the turquoise of Milk Jug is carried through from the upper walls to the accessories. Woodwork is kept simple with White Clay for a simple but unusual colour scheme.
Keep it neutral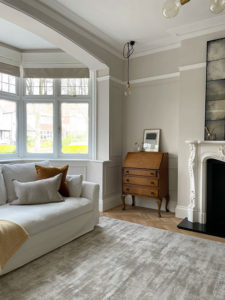 Painting a large living room in pale colours could make it feel bland… but not so with this beautifully sophisticated colour palette. Feather Pillow is the relaxing shade on these spacious living room walls. It's the perfect warm neutral that's ideally suited to large living rooms. The clever use of panelling helps to add subtle texture to the space, along with some well chosen accessories.
Let the light in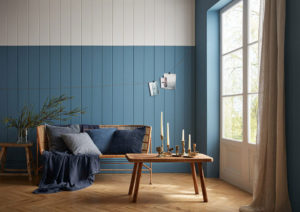 Another way to add colour to a large living room is by painting the lower walls. Here we've gone one step further with tongue and groove panelling painted in the nautical tones of Summer Frock from our Modern Country Colours collection. Despite the deep colour, this living space still feels lofty and light because the upper walls and ceiling are painted in a pale neutral shade St John.