A home can be someone's pride and joy – with the ability to decorate it how we please.
And with the housing market increasingly fluctuating, many of us are making the most of renovation over relocation.
But what if you discovered your neighbour had copied you?
This is the question My Job Quote asked 2,113 UK homeowners, amongst others in an interest to investigate copycat neighbours.
Survey results:
Many copycat neighbours exist in the UK, the results reveal.
When asked if they have ever imitated aspects of a neighbour's house, 66% admitted yes (15% said no and 19% were unsure).
Homeowners were also asked to specify which aspects they had copied, revealing the most commonly copied feature of British homes:
Indoor furniture/items (72%)
Colour schemes (57%)
Outdoor furniture/items (53%)
External house design (45%)
Indoor accessories (41%)
Garden design (34%)
House architecture (29%)
Room design (23%)
Floor plans (9%)
It appears we have mixed opinions upon finding out a neighbour has copied us. Being copied is primarily met with discomfort (67%), however sometimes we can be flattered (56%). Other reactions include:
Challenged/competitive (49%)
Violated (42%)
Angry/annoyed (31%)
Happy/pleased (24%)
Anxious (20%)
Inspired (18%)
Pressured (13%)
Sad (10%)
Impressed (8%)
Are social pressure and competition the main drivers of our curiosity? Apparently so.
When asked how pressured they feel to compete with surrounding properties, the most common answer was somewhat (35%).
This was, however, followed by very (23%), and then by not very (19%), a little (15%), not at all (7%) and finally depends on the renovation (1%).
Yet, this competitiveness doesn't appear to translate to reality. Most homeowners aren't willing to spend to renovate, with the majority choosing £0-£5,000 (31%) when asked. Other choices included:
£5,001 – £10,0000 (26%)
£10,001 – £20,000 (17%)
£50,001+ (15%)
£20,001 – £50,000 (11%)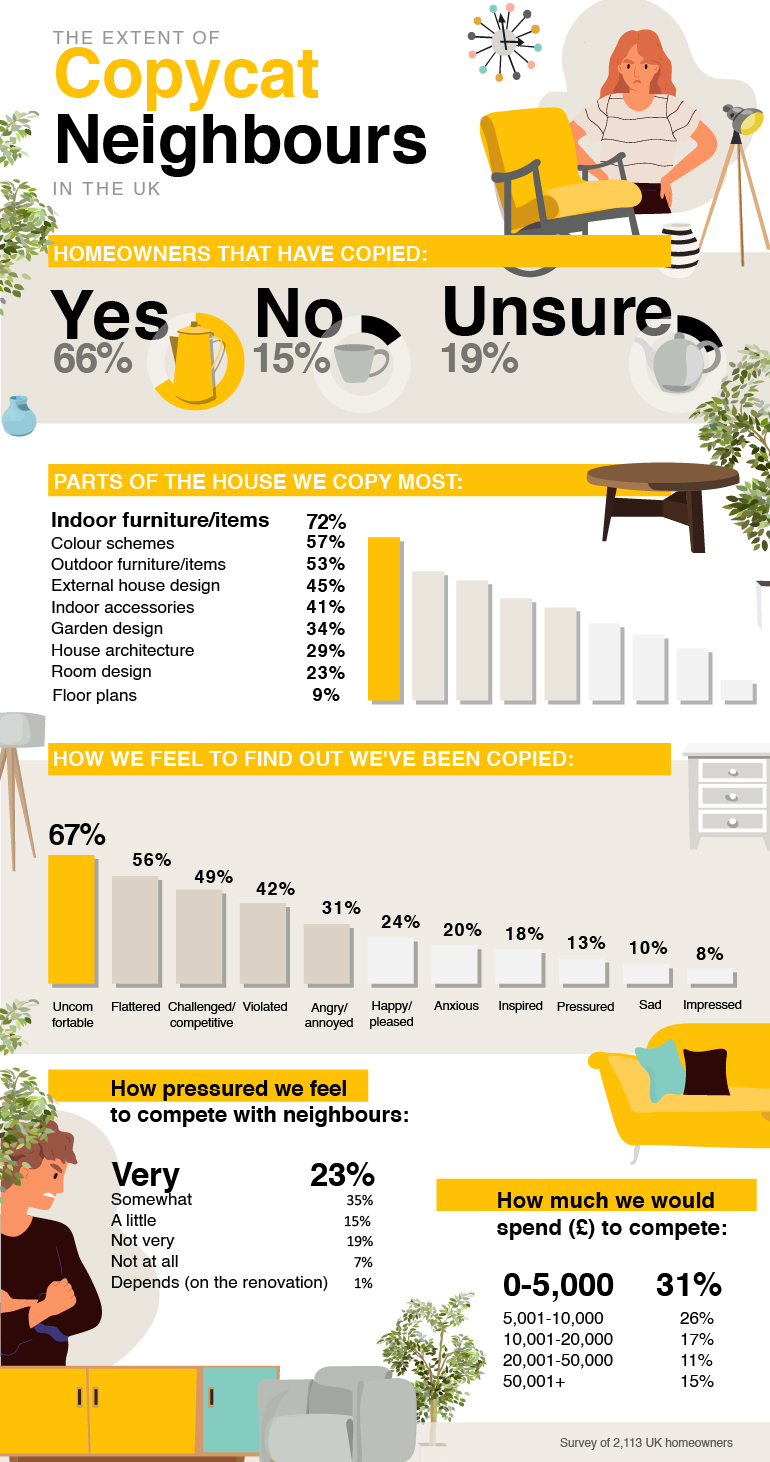 Speaking exclusively to My Job Quote, UK homeowners share their stories:
"I had a neighbour who always felt inferior to me. She repeatedly copied everything I bought and was always frustrated that I'd done something first.
I kept on buying new things to see if she would continue to try to outdo me, which she attempted.
But instead of confronting her about it, I openly spied back. I praised her efforts to intimidate me, which made her realise that copycatting is not a very satisfying game for her to play." – Rameez Usmani, Digital Marketing Executive, PureVPN.
"We moved into our home almost two years ago and upon arriving our neighbours didn't like us at all. They seemed to nit pick at everything we said…
We mentioned we had a small dog. The lady next door said she doesn't like animals, but then two weeks later went out and got a puppy.
And we mentioned about wanting new fencing. The neighbours then went out and replaced our side of the fencing in the front garden, alongside other decorations we mentioned!" – Alisha Valerie, Social media influencer and blogger, AlishaValerie.co.uk