Cellecta are excited to launch its latest innovative, environmentally friendly product, insuBEAM® – the low CO2, high thermal performance beam and insulation block system.
insuBEAM® is lighter and quicker to install than traditional beam and concrete block flooring, whilst dramatically reducing the carbon emissions impact of the floor by an impressive 42%/m².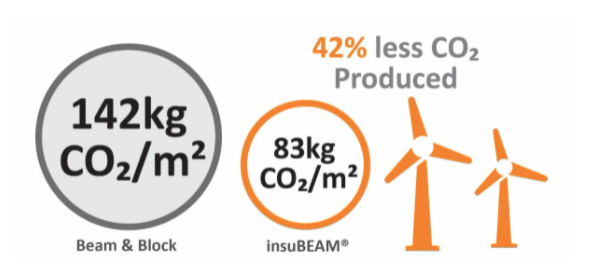 During the installation process the systems unique R2 insulation blocks provides a robust walking platform. To aid with health and safety on site, the weight of material required to be installed is reduced by 95% (349kg compared to nearly 8025kg of concrete blocks in a 60m² typical house).
The completed insuBEAM® floor can ensure U-value compliance with PART L 2021.
Our in-house design team provide a prompt floor designs and quoting service.
To control costs and waste, insuBEAM® is supplied in plot specific quantities.
Click here to learn more.
___
Insulated Suspended Ground Floors – New CPD
Our brand new RIBA approved CPD. To register, click here.
___
Strong, robust insulation blocks – able to withstand foot traffic during the construction process.
One insulation panel replaces 13 concrete blocks.
Insulation integrity guaranteed – sits on and between standard concrete beams.
Third party complete accredited system.
Provides fixed floor heights above the beam.
Easily incorporates underfloor heating.
insuBEAM® blocks are manufactured to the highest specifications. Their physical properties are determined under strict laboratory conditions in accordance with UKCA Standards.
Click here to visit our website. Click here to register.